8 Women (And 1 Guy) Who Prove Why the Week After Pride Is So Hard
By Cristina Cala. Photos by Nate Compton.
The week back to work after Pride is a little like January 3 after the holidays. The fading afterglow of choir angels is still rosy enough to carry you through that whole "doing work" thing and help you forget how much you spent on your holiday outfit (ideally sequins in both holiday scenarios). You drank too much. And there's still glitter in so many impossible crevices. The only real differences are that the cherubs are wearing thongs and chaps, they're singing Cher, the glitter is in your asscrack instead of your grandma's couch cushion, and your grandma is a gorgeous MTF trans woman named Danii. But the gifts of Pride surpass whatever is in that homemade kombucha your sister made as holiday gifts "on a new vibe" this year. The love of complete strangers you meet and hug (probably topless? and then wherever your friends are partying later) is a pure love out of the shared joy of identifying. We interviewed Pride goers and to no surprise, met a vibrant array of LGBTQ-identifying people and nonbinary people; chatted confidence, coming out and body positivity; and had one interview interrupted with a dance-orgy-style flash mob, in which we participated, obviously.
Actual conversation:
Me to very very pretty gay boy: Your eyes look gorgeous.
VVPGB: It's Dior.
Me: Yes! I wear Dior mascara, too!
VVPGB: Which one?
Me: I wear Black Out.
VVPGB: Oh, I'm Iconic. … But if you buy any Dior, you're good.
One very woke 17-year-old named Symone told us she started reading up on gender identities when she was 12. "I used to think I was bi when I was younger," the well-spoken high school senior said. It wasn't until she did her research that she realized she identified most as pansexual. Yes, girl, you are the future.
So safe (sex) to say, it was essentially everything Pride should be: a giant hug, Leave Britney Alone, a unicorn latte that's getting its Master's in experimental clinical psych therapy, or, as one amazing, gay-identifying teen named Romeo and styled in head-to-toe lilac mesh and chiffon puts it, "the biggest family reunion I've ever been to."
Meet the newest members of our fam. They've still got us smiling a week later.
Amber Davis, 23, bisexual
Who do you represent at Pride?
"I came for my sister. She's not here, but she's gay, and I support no matter what or who you are."
How did you meet your girlfriend?
"We were at a bar and I told her to hop in the car, and she did," says Naz. But they didn't date right away …
How did the Corannie-and-Naz love story really go?
"She had a girlfriend and I had a boyfriend. And then a year later we met again at school, and almost two years later, we're still together." UGH. *heart eyes emoji*
Why pride?
"Pride is important for women because of expression and being free. Shine off what the universe gave you. We need to be united. There's people out there who are afraid to be their divine self. And I was one of those people."
What does asexual identity mean to you?
"I identify as asexual because I like what I like, to be me. I'm free to do what I want to do, and that's good enough."
Why women?
"Cisgender men are the problem. So as a man, if we have something to do it is up to us to challenge it because we are responsible for how masculinity is represented and negatively impacts women."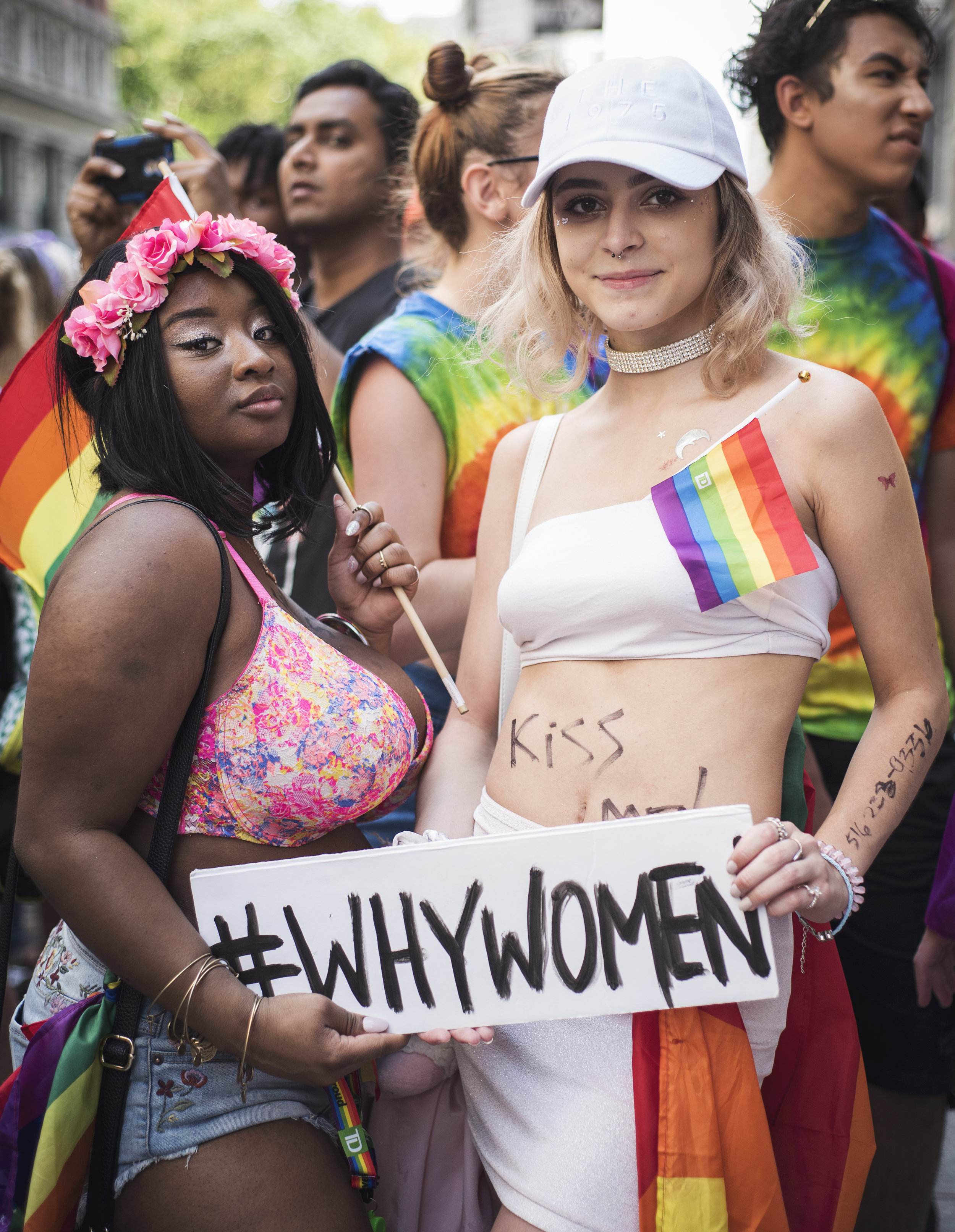 Kery Flores, 20, pansexual, & Claudia James, 19, bi
Kery on fluid identities:
"You shouldn't have a gender; you should be identified as who you are and what you like. It doesn't matter as long as you know who you are. I don't mind how someone else identifies, but if I'm challenging you it's because I wanna see how deep you want to go."
Why women?
"Women have always been important. My mom passed when I was younger. She never really loved herself and I'm trying to fill those shoes. I'm trying to be my own person. I'm nervous about being topless in a crowd, [but] I learned confidence from my mother and drag queens. I learned makeup from them. In drag, they love bigger women."
Jamillah Herrera, 20, lesbian
"I'm a Hispanic woman and a Hispanic lesbian and Trump got me fucked up. I'm here just to be happy and supportive of other people," says Jamilla. "Pussy is power."
The Why Women Project is a group of women in media following the stories of women who mobilize. Follow us @thewhywomenproject on Twitter and Instagram.
Cristina Cala
Editor, The Why Women Project